Will you make a successful transition from work-life to home-life? Are you prepared for everything that comes with retirement including the mental, social, physical, financial, and spiritual aspects? Take the quiz to find out.
I know what my life purpose is and I am living it or working toward it.
I look on the bright side of things and am known as a person with an optimistic attitude.
I make wise choices about where to invest my time in worthwhile activities and don't worry about things that are beyond my control.
I am able to cope with feelings of sadness and worry and have healthy habits to cope with stress (e.g. exercise, relaxation, social support).
I learn from my mistakes and don't dwell on them.
I am satisfied with my social life and maintain a network of supportive friends/family/social contacts.
I appreciate my friendships and participate in them to keep them strong.
I contribute time and/or money to at least one organization that strives to better the community where I live.
I seek opportunities to learn and experience new things by visiting museums, exhibits, and zoos, or attending plays and concerts.
I keep informed about social, political and/or current issues from more than one media source.
I have a written retirement plan, budget, and have no unsecured debt (credit cards, loans).
I feel confident that my savings and other income sources will allow me to maintain my lifestyle throughout retirement.
I spend time each month or quarter reviewing my investment fees, expenses, and performance to make sure they are in line with my expectations and my goals.
I meet with family, friends, and/or professionals to discuss my financial situation and feel comfortable bringing up any issues and concerns with them.
I am protected against major personal and financial issues with the right insurances including auto, home, health, umbrella, life, long-term care, etc.
I have a belief system and/or relationship with a higher power.
I feel and express gratitude for my life.
I spend a portion of every day in prayer, meditation, and/or personal reflection.
I belong to a spiritual community that allows me to grow in my spiritual beliefs.
I do not hold onto bad feelings when I have been hurt by someone, can easily forgive friends, and try to make amends with them.
I utilize annual health exams and am aware of health related numbers such as blood pressure and cholesterol.
I am comfortable with my current weight, eating habits, and exercise routine.
I participate in aerobic activity 3-5 times per week.
I am active with a group or team of people on a monthly basis.
I am conscious of how outside factors including family, friends, and the four seasons impact my energy.
Please enter your first name and email to receive your quiz results.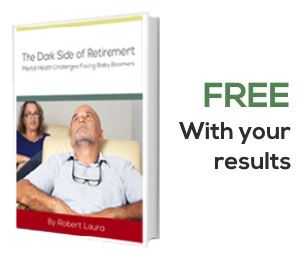 Receive a free copy of this guide with your results.